Meet Kelsey DiBiase - One of Our Engineers in Construction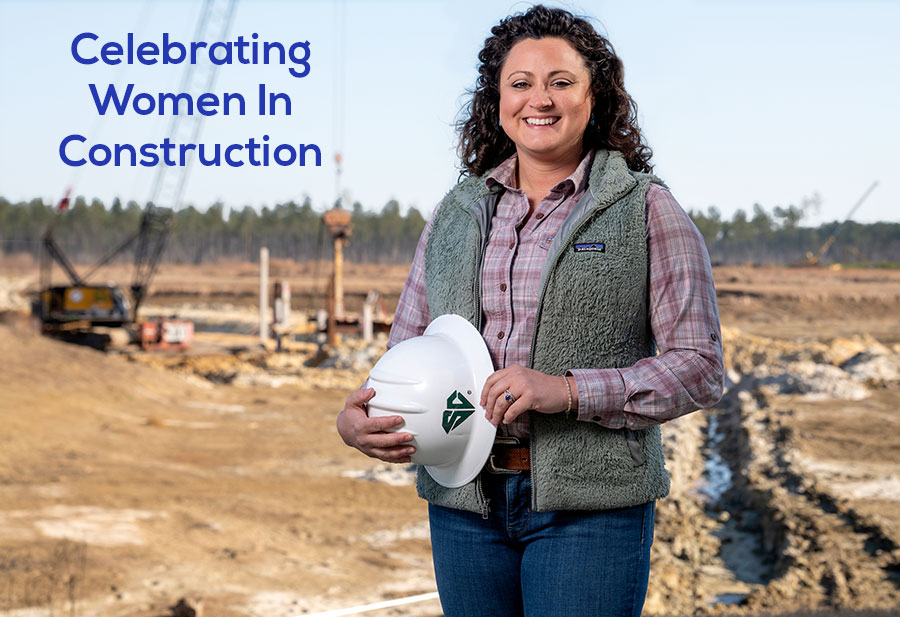 Have you ever caught a glimpse of your future and saw yourself doing that one thing you have always dreamed of doing? Then, you have a realization one day and notice you are, in fact, doing that one thing. Well, that was not me until my college years. I always thought I would become a vet due to my crazy horse obsession; however, my short-lived biology studies and advice from my horse farrier shut that down quickly. His advice was, "Never work your passion or with your head below your bum."
I envy the people who know exactly what they want in their life and never give up working on that one thing. As a child, my dad took me to many of his construction sites and in the airplane maintenance hangar (when it was still legal). I loved going with him and was oddly drawn to dump trucks – so much so that my grandpa made no mistake in buying me a Barbie Jeep and instead bought Big Jake, the dump truck! I was in awe at how these massive sites (because everything seems huge when you're five years old) can transform into something so amazingly intricate.
Looking back, it seems clear that my one thing was construction.
I graduated from Clemson with a Bachelor of Science in civil engineering in the spring of 2014. I had the opportunity to work in a group called Clemson Engineers for Developing Countries (CEDC). This group encouraged me to expand my skills within the classroom and in the field. During one of my weeklong trips to Haiti to install a water filtration system, I had my "future glimpse" moment, and I realized that one thing I dreamed of doing. I was going to be a civil engineer.
Still quite broad, but the idea of learning the inner workings of a project or system and then following that through by installing said project or system jazzed me up. I am a visual learner, so again, getting to be on the construction side of things works for me.
After Clemson, I worked at ESP Associates for three years in the engineering department putting together construction plan sets, permits, calculations, stormwater pollution prevention plans, and working with the appropriate agencies to get these approved for construction. In this line of work, I spent a lot of time in contact with our in-house surveying and planning departments.
The fluidity of a project comes from the fluidity of the people working on it. I understood that each line I drew in my design – whether it be a waterline, sewer line, road, or property line – had to have a purpose and had to work together with the other parts of the design as well.
I was then hired at Santee Cooper in the substation design group and have since landed in the civil projects group where I have led demolition projects, helped perform dam and dike inspections, and work as the Project Engineer and Manager of Camp Hall – a world-class commerce park near Charleston, South Carolina.
I liked Santee Cooper from the get-go because of our mission of "improving the quality of life for the people of South Carolina." This aligns with what I believe in and what I have strived to provide as an engineer.
Engineering is not a one-woman job nor is it one size fits all. Sometimes just connecting with people on personal levels helps, because as an engineer you will find yourself having to communicate with everyone. It is important to work on building relationships and connections with people because you never know when they hold the answer you need.
Life as an engineer is not just about designing something and handing it to someone for them to build. It's about working with different departments and knowing how this design will work in real life, all while sticking to a budget. I have learned how important it is to put eyes on the project site to have a better understanding of what it is I need to do to help the project be successful.
No one wants to fail, but sometimes it takes a failure to make you take a step back and see the whole picture from a different perspective. I am thankful for the CEDC group Clemson offered and feel that I was exposed early on to the benefits of what civil engineering can do for a community. I am grateful for the two companies I have worked for thus far in my career and the fact that they have each helped give me countless opportunities to learn from projects that I would have never thought I could bring to life.
A list of things I would say I have learned in my career of being a women engineer in construction would be having real exposure in college, understanding the whole picture, knowing your design role and responsibilities, being self-motivating and a good teammate, saying yes to things you normally wouldn't, finding your life balance, and aligning what you believe in with the company and/or boss you work for.
You got this. Go out there and find your one thing.