Santee Cooper and Denmark Technical College Join Forces to Build Diversity in Lineworker Training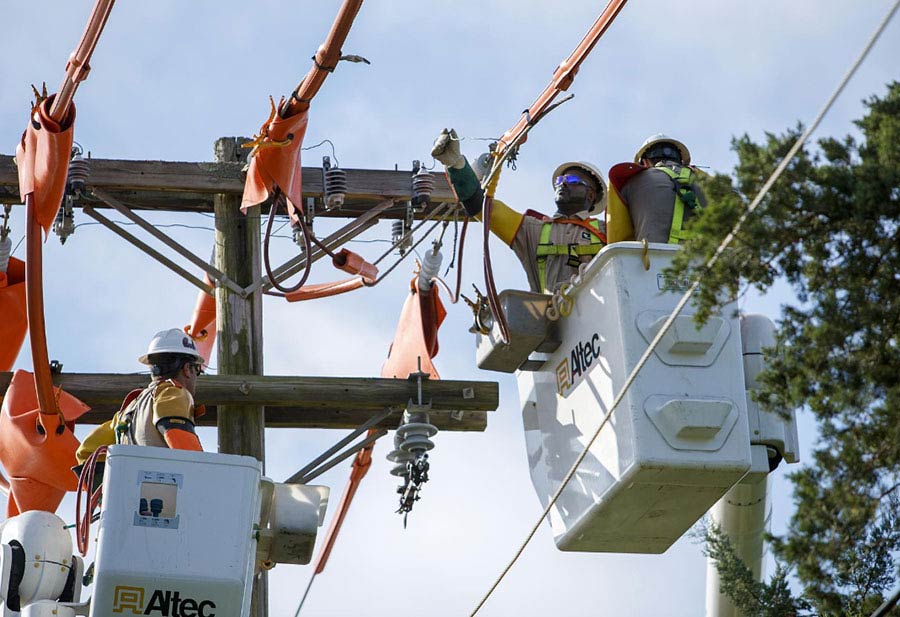 MONCKS CORNER, S.C. – Santee Cooper and Denmark Technical College collaborated on a new electrical lineworkers program at the Historically Black, two-year technical college located in Bamberg County, South Carolina. Together, the organizations created the curriculum for the program and conferred on training, with Santee Cooper donating materials and building the training yard.
"When we were considering what programs we wanted to add to our course offerings as we continue putting the TECH back in Denmark Tech, we took a deep look at the power industry and realized that, while there were many high-paying jobs, there was little diversity in the lineworker trade and little opportunity for the people in our community to receive the training they need for an entry-level position," said Willie L. Todd Jr., President and CEO of Denmark Technical College. "We're excited to be working with Santee Cooper to help change the trajectory of the industry and to provide more access to the citizens of rural South Carolina."
"The new line technician training program at Denmark Technical College is an important step in bringing quality training, career awareness, and the potential for solid, stable careers to a diverse set of students," said Rep. Gilda Cobb-Hunter. "As an advocate for diversity, equality, and opportunity I believe this is a noteworthy achievement and should be celebrated."
"This idea was championed by our Alumni Association President and former Sr. Vice President of a Fortune 500 utility, Mr. James Bowden, and supported by Rep. Gilda Cobb-Hunter and the office of Rep. James Clyburn," said Shelby Simmons, Director of Workforce Development at Denmark Technical College. "This partnership is designed to enhance diversity and inclusion in one of the most critical and visible areas of energy distribution. Over time, the program is expected to expand to an academic degree program for technicians. In the interim, the workforce development division will train individuals for overhead and underground distribution and transmission lineworkers."
Santee Cooper provided advice on curriculum and power poles, distribution training lines, transformers, and a capacitor bank. Santee Cooper's transmission line technicians built the training facility.
"Santee Cooper is instrumental in the development of the program, the creation of the climbing range, and the needs assessment for the program," said Simmons. "Without Santee Cooper the program would not have moved forward this year."
Santee Cooper may benefit by hiring the local, qualified line technicians in the future.
"This partnership helps create more opportunities for diversity in the power business," said Mike Poston, Chief Customer Officer at Santee Cooper. "We hope it provides future opportunities for generations to come for the people in this community."
Denmark Technical College is a two-year HBCU in rural Bamberg County, South Carolina. Denmark Tech serves over 600 students with a focus on technical career training, associates degrees and a four-year college transfer program.